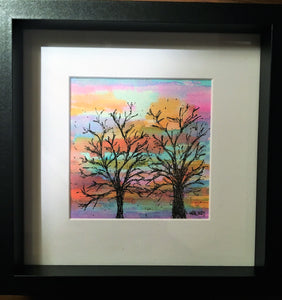 Winter Trees at Sunset - Framed Original Watercolour Painting
eDgE dEsiGn London
Regular price $19.00 Sale
Description: This original artwork is a winter sunset with two trees rendered in ink and watercolour. It is painted on high grade watercolour paper using professional waterproof ink pens and watercolours. Signed and dated by the artist – Esther Wilson.
Materials: Ink and watercolour on high grade white watercolour paper
Picture size: 10 cm x 10 cm
Orientation: Square
Frame size: 17 cm x 17 cm x 3 cm
Frame colour: Black
This is an original piece of artwork, not a print. It would look great either wall-mounted or displayed on a surface such as a mantlepiece, sideboard or shelving unit. Please note that the colours in the painting may differ slightly due to monitor settings. Your artwork will be shipped within 1-2 working days. All framed pieces will be shipped in protective packaging. Mounted and unmounted works are shipped in a protective plastic sleeve in a rigid cardboard envelope, marked 'fragile – do not bend'.
Note: copyright for this work does not transfer to the buyer. This artwork cannot be reproduced in any form without written consent from the artist.