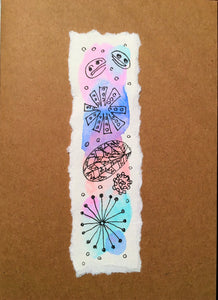 Hand Painted Greeting Card - Abstract Ink Design on Pink/Blue background
eDgE dEsiGn London
Regular price $5.00 $4.00 Sale
Send your greetings in style
This card features a hand drawn abstract design in ink on background of pink and blue watercolour circles. 
The design is painted onto watercolour paper with roughly torn edges, which is then attached to a 100% recycled kraft greeting card, and comes complete with envelope.
Specifications
Orientation: Portrait
Dimensions: Card A6 (10.5 cm x 14.8 cm), Envelope (11.5 cm x 16.2 cm)
What's inside?
This card is left blank for you to add your own message.
Naked cards
This card is shipped with a cotton band/wrap instead of a single use cellophane bag. Cutting down the use of plastics and helping the environment - one card at a time! 
Contact/Commissions
Please contact me if you have any questions or cannot find exactly what you're looking for: esther@edge-design-london.com