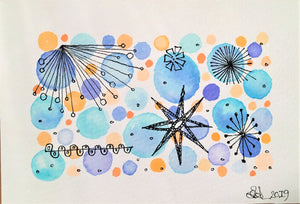 Handpainted Watercolour Greeting Card - Abstract Retro Design Star and Circle
eDgE dEsiGn London
Hand drawn/painted greeting card design by Esther Wilson. Abstract landscape watercolour with blue and orange circles and abstract ink star, circle and squiggle design. 
The design is painted onto watercolour paper mounted on a 100% recycled kraft greeting card, and comes complete with envelope.
Dimensions: Card A6 (10.5 cm x 14.8 cm), Envelope (11.5 cm x 16.2 cm)
The card is left blank for your own message. Every card has a different design and made by hand so you can guarantee that your card is unique!