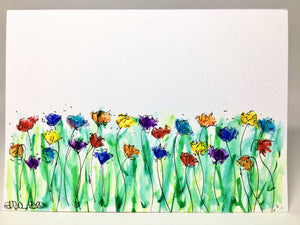 Hand-painted Watercolour Greeting Card - Abstract Poppy Field Design
eDgE dEsiGn London
Rainbows for loved ones - cards created for when you just want to send a hug, your love or support to someone special. 
Every card is unique and hand-made by artist, Esther Wilson. This card features a field of multicoloured poppies in rainbow colours - Red, Orange, Yellow, Green, Blue, Indigo and Violet on thin black stems along the bottom half of the card.
The design is hand painted directly onto high quality watercolour card stock and comes complete with envelope. The card is signed by the artist. 
Orientation: Landscape
Dimensions: Card A6 (10.5 cm x 14.8 cm), Envelope (11.5 cm x 16.2 cm)
This card is left blank for you to add your own message. Every card has a different design and made by hand so you can guarantee that your card is unique!
ALL PROCEEDS FROM THIS CARD WILL BE DONATED TO THE BRITISH RED CROSS