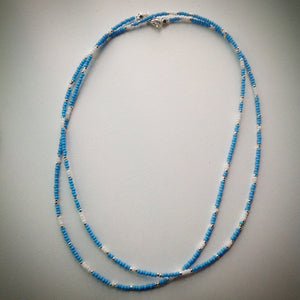 Beaded necklace - Turquoise, white and silver seed beads
eDgE dEsiGn London
Regular price $19.00 $18.00 Sale
Blue and beautiful - gorgeous long necklace with silver, opaque white and turquoise seed beads. The white and turquoise beads are separated by silver spacers.
Very versatile, this necklace can be worn long, doubled up or wrapped multiple times to make a very cute bracelet. 
If you like this lovely necklace, you might also like the matching single strand bracelet in the same design.
Matching bracelet available (EJ518)
Size: 80 cm total length, the necklace is 40 cm long when worn long and is 2.5 mm wide