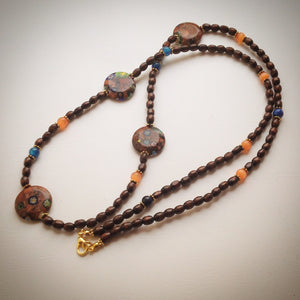 Beaded necklace - Millefiori discs, Orange Tigers Eye, Blue Agate and Wood
eDgE dEsiGn London
Regular price $25.00 $19.00 Sale
Long Boho beaded necklace with pretty floral metallic Millefiori Disc Beads, Orange Tigers Eye and Blue Banded Agate beads randomly spaced to give the necklace a rustic but very classy look. Dark wooden beads and gold plated spacer beads complete the look with a gold plated clasp fastening. 
The Millefiori discs are brown and gold with multi-coloured floral detail which makes the necklace very versatile. 
Measurements: 40 cm drop x 2 cm width, the total length is 80 cm.