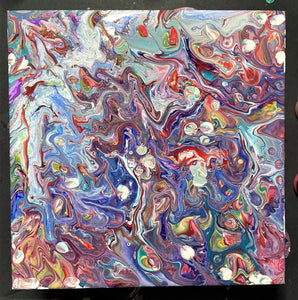 Abstract Acrylic Pour Painting - Fluid Art Cells
eDgE dEsiGn London
Regular price $20.00 Sale
FLUID ART CELLS
Acrylic pour painting created using flip cup technique and silicon to create cell patterns. Colours used to create this one of a kind design include blue, white, red, gold, green and yellow.
ORIGINAL ART ON CANVAS BOARD
Original artwork from eDgE dEsiGn London. All paintings are unique original works by artist, Esther Wilson. 
DESCRIPTION
Abstract acrylic pour painting on canvas board, blue, white, red, gold, green and yellow.
Orientation: Square
MEASUREMENTS
This painting is 20 cm x 20 cm and the board is approximately 0.5 cm deep. 
SHIPPING AND COPYRIGHT
Please note that the colours in paintings may differ slightly due to monitor settings. Your artwork will be shipped within 1-2 working days. All pieces will be shipped in protective packaging. 
Note: copyright for work does not transfer to the buyer. Artwork cannot be reproduced in any form without written consent from the artist.
CONTACT
Please contact me if you have any questions or wish to arrange for a consultation to commission a bespoke piece: esther@edge-design-london.com